Congratulations to the Kotoba who won against the Runic Legion!
Thanks to this victory, the card Competitive spirit, at stake during this battle is affiliated to the Kotoba.
Competitive spirit. Rare. Action. Kotoba.If the opposing character's Attack is superior to your character's, the Attacks of both characters in battle are divided by two (rounded up). Chain Warrior card.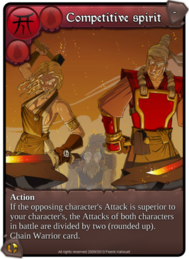 Here is the list of brave winners!
Real_Polak, Dunkelzahn2061, Tom's, NightmareJoke, squall62800, Erwin_Kraus, Fajrasul, Cosimo_Clopinsalvi, Gabriel_Babakana, Tyroam, giuseppe92, remus lupin, metalfrani4, TheRainMan, Bru_Tus, SetSprince24, Toten_Sprecher, lp182, coni85, Luiz-F.
Enjoy the Game!