Congratulations to the Zil guild that wins this battle against the Nehantists!
Thanks to this victory, the card Telendar's black blade at stake in this battle is now affiliated to the Zils.
Telendar's black blade. Rare. One-handed Dagger weapon. Attack +2. Dual Wield. Duration: 2 turns. At the end of the fight, two cards attached to the opposing character are discarded.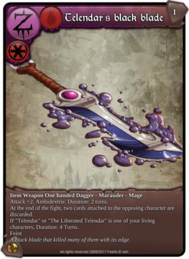 Here are the names of the valiant winners!
ogamer60, betha, PaNcHi, Xerpet, Dax_Rodriguezsolis, tinchoo14, Juu_Maldonado_Vocaturo, luaninha3000, sartanos, haroxD, Tyroam, Marco_Di_Vozzo, filhodocthulhu, ukeman, yogi88, 小兔兔, Aspegic, Romain_Cote, HoboGobo, deox62.
Enjoy the Game!