Advent Calendar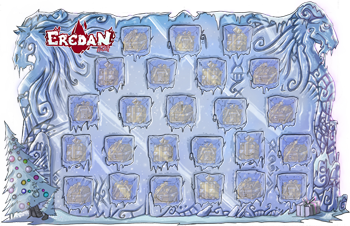 Christmas is coming in the world of Eredan iTCG and we cannot do without the traditional advent calendar!
Everyday, when you log in, the Advent Calendar will appear. By clicking on the date of the day, you will get a gift, and as usual, the Eredan iTCG team has prepared you a thrilling Advent Calendar!
This year too, those who will open all the doors will get a trophy plus a bonus reward on December 24th as well as the exclusive character: Lady Beenle!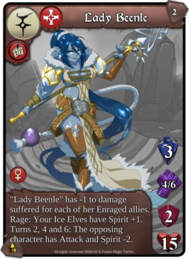 Lady Beenle. (2 evolutions in all). On its last evolution: Mercenaries. Priest. Ice Elves. Spirit 3. Attack 4/6. Defense 2. Health points 15. "Lady Beenle" has -1 to damage suffered for each of her Enraged allies. Rage: Your Ice Elves have Spirit +1. Turns 2, 4 and 6: The opposing character has Attack and Spirit -2.
NB: if you miss a door, you can open it for 15 fee'z, that way you will still be able to win the calendar trophy. The calendar will be available until December 31st.
Have a nice month of December with us on Eredan iTCG!