New cards have been released on Eredan iTCG:
Thanatissia. (3 evolutions in all). On its last evolution: Rare. Spirit 2. Attack 4/6. Defense 3. Health points 14. Necromancer. Warrior. Mage. Demon. Undead. Your other characters gain Undead if they haven't already and gain Chain Necrosis. If not, they have Attack +0/+3. Turns 2, 4 and 6: The opposing character has Attack -X, where X equals the amount of living Undeads.
Discover the preconstructed deck: Thanatissia
For Thanatissia's release, we prepared a preconstructed deck for you, after a conception of "Senshui", the Nehantist Guild Leader.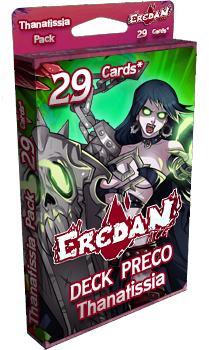 This 29 card deck (with 5 Rares and 7 Uncommons), containing Thanatissia, is available in store for 999 Fee'z thanks to a 50% discount that will last until Sunday at 11:59 PM (CET).
After this, the preconstructed deck "Thanatissia", will be available for 1999 Fee'z in the "Deck" section of the store.
All cards of this preconstructed deck are playable in Standard format Tournaments.
Patch / Reedition
The following cards are reeditions of older cards:
… becomes us
Insensibility
Necrology
Death…
Decomposition
Corruption rosary
The following cards are reeditions of older cards that have now been updated:
Necrotic weapon. Uncommon. Armor. Nehantist. Warrior. Permanent. You cannot suffer anymore Attack, nor Defense penalties and if 3 or more Necroses are in the Discard piles, your Attack and Defense penalties are ignored. Chain. Undead: Defense +2.
Braiiiiiiin? Uncommon. Action. Nehantist. Undead. Attack +2 to Attack +3. An additional Attack +1 if your Spirit is inferior to the opposing character's Spirit. If this card is a Necrosis: Heals 2 to 3 Health points. This card becomes a Necrosis until the end of the game.
Still alive?! Common. Action. Nehantist. Demon. Duration 5 turns. At the end of the turn, if your character has suffered damage points, he has Defense +1, and Attack +3 if he has suffered more than 6. Turns 3 or more: Chain.
These cards are now available in the Newcomers Booster.
Enjoy the game!