Card release: MC Laddie
New cards have been released on Eredan iTCG: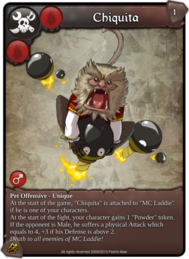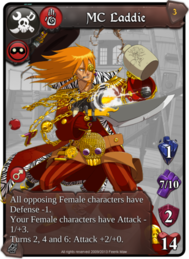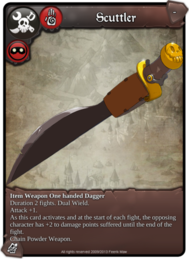 Chiquita. Rare. Offensive Pet. Unique. Pirate. Male. En début de partie, "Chiquita" s'attache à "MC Mousse" s'il fait partie de vos personnages. En début de combat, votre personnage gagne 1 Marqueur "poudre". Si votre adversaire est masculin, il subit une attaque physique égale à 4, +3 si il porte 1 Marqueur "poudre".
MC Laddie. (3 evolutions in all). On its last evolution: Uncommon. Pirate. Marauder. Human. Male. Spirit 1. Attack 7/10. Defense 2. Health Points 14 All opposing Female characters have Defense -1. Your Female characters have Attack -1/+3. Turns 2, 4 and 6: Attack +2/+0.
Scuttler. Common. Dagger. Pirate. Marauder. Human. Duration 2 fights. Dual Wield. Attack +1. As this card activates and at the start of each fight, the opposing character has +2 to damage points suffered until the end of the fight. Chain Powder Weapon.
The following cards are reeditions of older cards:
EMP Grenade. Uncommon. Other. Pirates. At the end of the fight, from 2 up 3 cards attached to your opponent are discarded and every character in battle suffers 1 direct damage for every card discarded in this way. Chain if you at least 1 "Powder" Token is attached to you.
Stink Bomb. Uncommon. Action. Pirates. Marauder. Choose an opposing character, he has Defense = 0. Chain.
These cards are now available in the Newcomers Booster.
Enjoy the game!