"Today after reading the newspaper, I came across an amazing article!
I discovered that a series of burglaries took place at Dollz City in several buildings: the Central Bank, museums, jewels of Vencôme square and a few rich collectors…
But the most extraordinary is that alarm systems have not worked and that the police did not always stop thieves signing their misdeeds by the name of Robin Hood and Aladdin!
I do not know if they intend to steal the rich to give to the poor but I wish I knew how they did!
And if I myself were in the shoes of a thief to carry out the heist of the century? "
For this theme, be original by creating a burglary scene in an interior space (banking, jewelry, museum, treasure room …), real or fantastic.
10 am on Tuesday, you can register your Loft Parade Ohmyloft "Burglary Dollz City"
You will have until Monday, April 6, 10 hours to register, enjoy it to the end!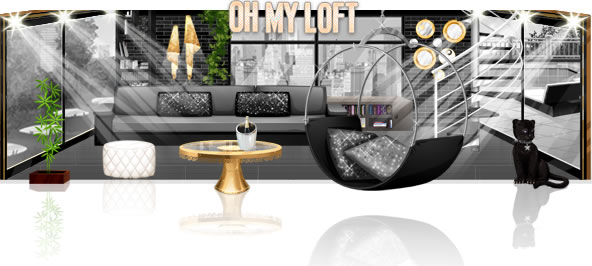 To register for this show you will need to meet the following requirements:
– 1 item from 4Work

– 1 item from Summer Store

Required:
– Indoor scene (outside view only allowed on the loft 1/3)
– a thief with a mask (fantastic character, human or animal)
– Fantastic or real scene
– A burglar bag (with loot or thief tools)
– Broken objects and / or overturned furniture
Prohibited:
– Scene of violence (aggression, blood …)
– Outdoor stage
– Bags (handbag kind)
– A flower shop!
– The gifts for friends and those of the Gazette