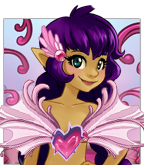 The seventh guard lives in the heart of the land the ponies of love call their home.
This place is one of the most extraordinary of the valley. Everything is made of sugar and comes in all shapes and sizes. The plains are covered with candyfloss and trees grow as multicoloured lollipops.
And on the bottom of a deep lake, filled with purest syrup, lives Shu'Kar, the Guardian of Sugar.
The Set Sugar Dragon is exclusive and will only stay in store till Tuesday!