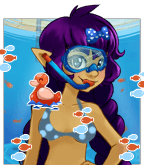 Summer is here, temperature is high, but the sea is far away.
Fortunately the pool is not far away, so go for mask, snorkel, fins and buoy and go to take a dip and some relax!
A little fresh water will be good.
PoneyVallée, The Magic Poney Game.
Find this game also on Facebook !