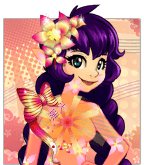 Even though the Imperial Feast ended several moons ago, the spirits still have work to do. Fortunately, Amaterasu, one of the most powerful entities of the spiritual world is there to help them out.
Head of a coalition made of several spiritual clans, she, who is said to be the queen of the skies, rules wisely and with grace.
She uses her magic power to maintain the veil that separates both worlds , the lighthouse of the other world ensures that harmony reigns for eternity.
PoneyVallee, the magic pony game.
Also on Facebook!